My son
has been designing my next tattoo (my "Mama Bear" tattoo) and right in the middle of all the excitement we came across
Hidden Eloise
and her amazing talent.
Mi hijo
ha estado diseñando mi próximo tatuaje (mi tatuaje de "Mamá Oso") y justo en medio de toda la conmoción descubrimos a
Hidden Eloise
y su increíble talento.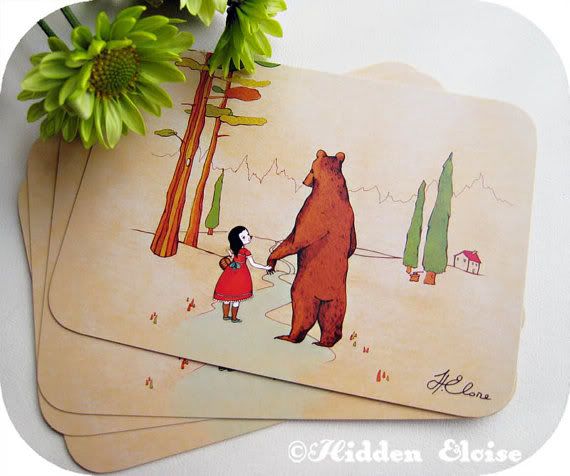 Having lived with a deep love for fairytales most of my life, her work inmediately pulled me in and reminded me of the storybook fantasy I floated in half of the time as I was growing up.
Habiendo vivido con un profundo amor por los cuentos de hadas clásicos la mayor parte de mi vida, su trabajo me sedujo recordándome la fantasía de cuento en la que pasé la mayor parte de mi infancia.
My G got a look at this and was on a roll drawing and drawing away. He´s been nervous about the fact that his drawing is going to be irreversibly inked into mommy´s arm, but this beautiful artist inspired him to create fearlessly (plus, I think my 11 year old is completly smitten with her)
Mi G le dió un vistazo a estas maravillas y siguió dibujando con fervor. Había estado nervioso por el hecho de lo que dibuje va a quedar irremediablemente grabado en el brazo de su mamita, pero esta hermosa artista lo inspiró a crear con más libertad (además creo que mi niño de 11 años ha quedado encantado)
Hide n Seek Etsy Shop
Thankyou sweet Eloise for inspiring!
¡Gracias Eloise por inspirar!