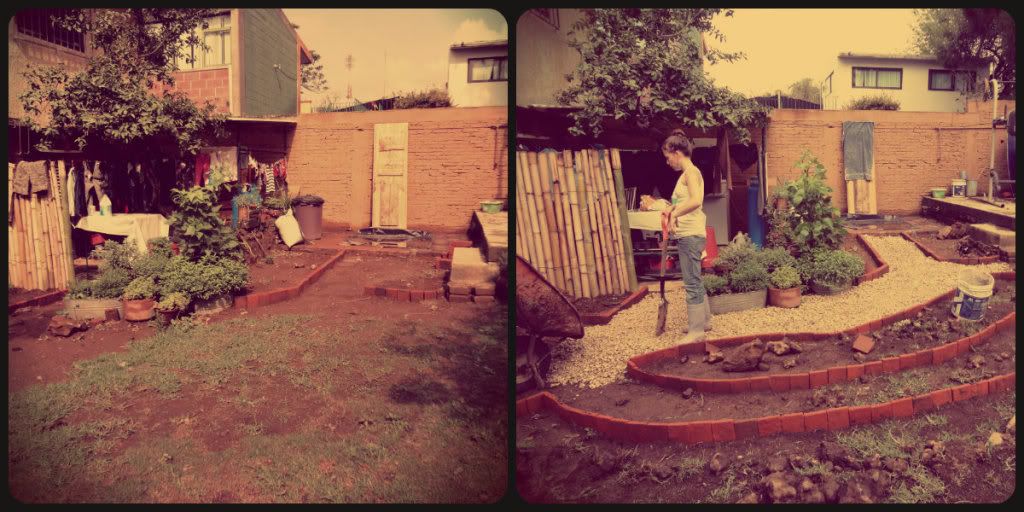 This week our garden has been dragged back to building-mode. We´ve had the "second floor" under control and planted the whole surface (only 4 beds) with lots of corn, verdolaga, spinach, and different types of lettuce. We have lovely little carrots and other surprises growing in tiny flower pots. So we decided that while our little babies grow strong enough to be transplanted, we would get our long posponed plans for the "first floor" of the garden (which is muuuch bigger than the "second floor") done and over with. Well, as least as much as our piggy banks allow us to.
Esta semana nuestro jardín ha sido arrastrado de regreso a modo-construcción. Hemos tenido el "segundo piso" bajo control y plantado toda la superficie (solo 4 camas) con mucho maíz, verdolaga, espinaca y diferentes tipos de espinaca. Tenemos lindas zanahorias y otras sorpresitas creciendo en almácigos. Así que decidimos que mientras nuestros bebés crecen lo suficiente para poder ser trasplantados, atacaríamos los planes que hemos tenido para el "primer piso" del jardín (que es muuuucho más grande que el "primer piso") desde hace tiempo, de una ves por todas. Bueno, por lo menos tánto como lo permita nuestro chochinito de ahorros.
We recycled this beautiful old gate, turned it sideways, and used it to build the entrance to our veggie garden. It still has to be painted, but I´m already so in love (and very thankful to have found a way to not find dog poo in my herb garden, or better said, ON my herb garden, any more).
So Mr. B shuffled and shuffled gravel, moved it from one side of the house to the back yard, over and over again. I would wait for the gravel to be dumped at my feet and spread it out over our small little pathways. It was a few hours of hard work, but we´re happy.
Next step: prepping the earth in the garden beds, building more garden beds, shuffle much more gravel, and decide whether we want to build a fish pond or not.
Hemos reciclado esta hermosa reja vieja, lo volteamos de lado, y lo usamos para construír la entrada a nuestro huerto. Aún tiene que ser pintada, pero ya estoy tan enamorada (y muy agradecida de haber encontrado una manera de evitar encontrar popo de perro en mis plantas de olor, o más bien dicho ENCIMA de mis plantas de olor).
Asi que el Sr. B acarreó y acarreó grava de la entrada de la casa a la pate trasera del jardín una y otra vez. Yo esperba en el huerto a que me vaciara la carretilla y me dedicaba a espartcir la grava por nuestros caminitos. Fueron varias horas de duro trabajo, pero estamo muy contentos.
Próximos pasos: preparar la tierra de las camas para sembrar, contruír más camas de sembrado, acarrear mucha más grava y decidir si vamos a contruír un estanque de peces.