Our "cold"weather is around the corner and apple season is coming to en end. When you buy organic and local you have to respect and flow with the seasons. This family loves apples, so I´m trying to stock up on as many apples as possible and prep for an apple-less winter. I´m passionate about making the most of what I have in the veggie garden or the lovely fruits and veggies I buy and not let anything "go to waste". The only thing I´m not using from these sweet apples is the skin from the cooked apples (the one from the raw apples I use to make vinegar), which my chickens love, so, in short, we´re good to go! This is what I ´ve got going on in my sweet kitchen (and garden!).
Nuestro clima frío está a la vuelta de la esquina y la temporada de manzanas está llegando a su fin. Cuando compras orgánico y local tienes que respetar y fluir con las temporadas. Esta familia ama las manzanas, así que intento juntar la mayor cantidad de manzanas posibles y prepararme para un invierno ausente de manzanas. Me apasiona el sacar el mayor provecho a lo que nos provee nuestro huerto y las lindas frutas y verduras que compramos e intento no desperdiciar nada. Lo único que no uso de estas dulces manzanas es la cáscara de las manzanas cocidas (porque la de las crudas la uso para hacer vinagre), que son una delicia para mis gallinas, así que, ¡todo en orden! Esto es en lo que ando estos días mientras estoy en la cocina (¡y jardín!).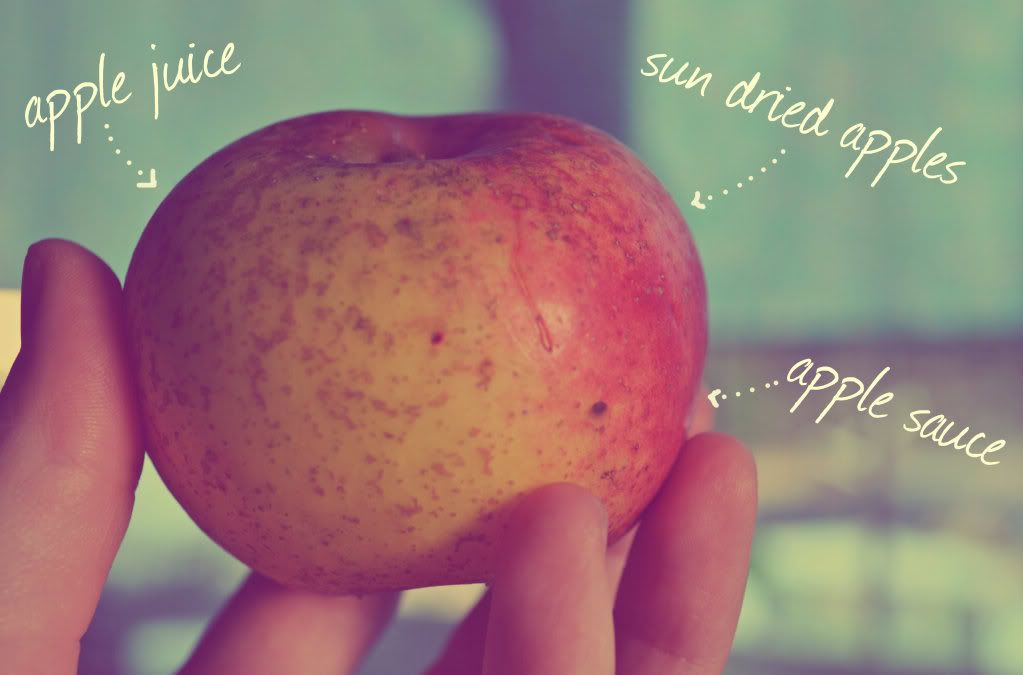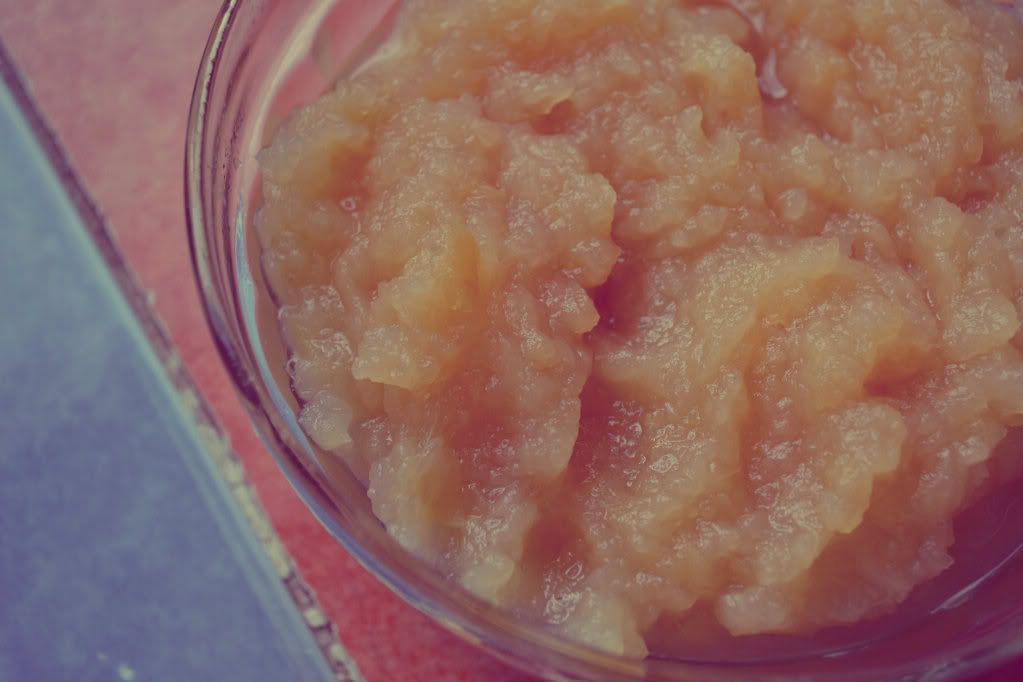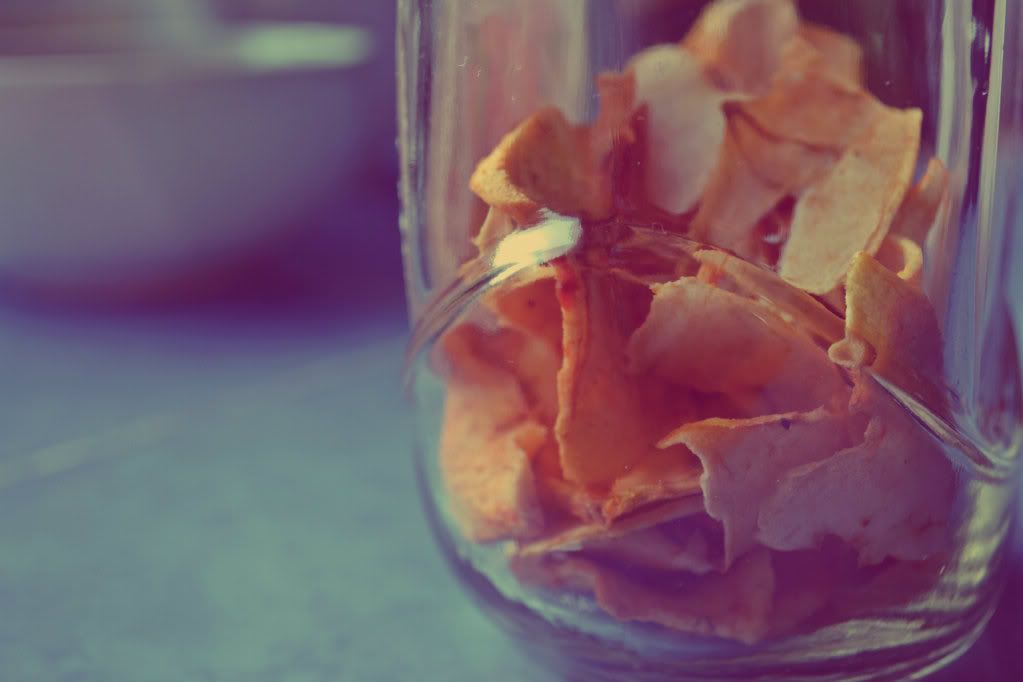 Skin and slice apples and thinly as possible. Place on "rack-like" surface so that your apples "breathe" properly (I place mine on a straw like woven tray). Let them lay out in the sun, or fresh air, making sure you turn them over every so often.
manzanas deshidratadas al sol
Pela las manzanas y córtalas en rodajas, lo más delgado posible. Colócalas sobre una superficie que permita circular el aire ( yo uso una charola de mimbre con un tejido muy abierto). Déjalos al sol, o al aire libre, asegurándote que las volteas cada cierto tiempo.
boil about 5-6 small apples per 8 cups of water. Boil on med heat until water reduces to about half and apples are soft. Taste your juice, and once you´ve achieved the intensity of flavor you prefer (organic apples tend to have a wonderfully intense taste to them) remove from stove. Let cool a bit. Sieve your juice through a colander, pushing down on the cooked apples with a fork (what is left in the colander is what will be later used as apple sauce). Store in a glass bottle in the fridge.
Note: the flavor and intensity depend on the type of apple you are using (flavor and size vary, the apples I use are small). I suggest you do a trial run, since the amount of apples needed may vary. If you do not achieve the intensity of flavor you´re after, cut more apples and plop them in the pot as they boil, until you get that flavor you´re looking for. Take note of the total amount of apples you ended up using so you know how many to use next time.
hierve aproximadamente 5 a 6 manzanas por 2 litros de agua. Hierve a fuego medio hasta que el agua reduzca a mas o menos la mitad y las manzanas están suaves. Prueba el jugo, y una ves que hayas logrado la intensidad de sabor que buscas (las manzanas orgánicas tienden a tener un sabor deliciosamente intenso) apaga el fuego. Dejar enfriar un poco. Cuela tu jugo, empujando las manzanas hacia el fondo del colador con un tenedor (lo que queda en el colador es lo que se utiliza para hacer el puré de manzana). Refrigera en botella de vidrio.
Nota: el sabor y la intensidad dependen del tipo de manzana que utilices (varía el sabor y el tamaño, las que yo uso son chicas). Sugiero que hagas pruebas, ya que la cantidad de manzanas puede llegar a variar. Si no llegas a la intensidad de sabor que buscas, corta y mete mas manzanas en el proceso de hervor hasta que llegues al sabor deseado. Toma nota de la cantidad final para que sepas cuantas usar la siguiente vez.
The apple sauce is simply the delicious cooked apple left over in the colander after you´ve made your apple juice. Just pull out any left over seeds, stems of apple skin with your hands (please remember to wash your hands verry well before) until you´ve "cleaned" out your sauce. Store in glass container in fridge or freeze.
Now all I need to do is loose my fear of learning to can!!! This is definitely my next project. (suggestions anyone?)
El puré de manzana es simplemente la deliciosa manzana cocida que queda en el colador después de haber hacho el jugo de manzana. Solo retira las semillas y ls cáscaras que hayan quedado con las manos (por favor asegúrate de haberte lavado bieeen las manos antes de empezar todo este proceso) hasta que el puré quede suave y limpio de cualquier bagazo. Guarda en recipiente de vidrio y refrigera o congela.
¡¡¡Ahora todo lo que tengo que hacer es perderle el miedo a sellar al vacío!!! Este definitivamente será mi siguiente proyecto. (¿sugerencias alguien?)