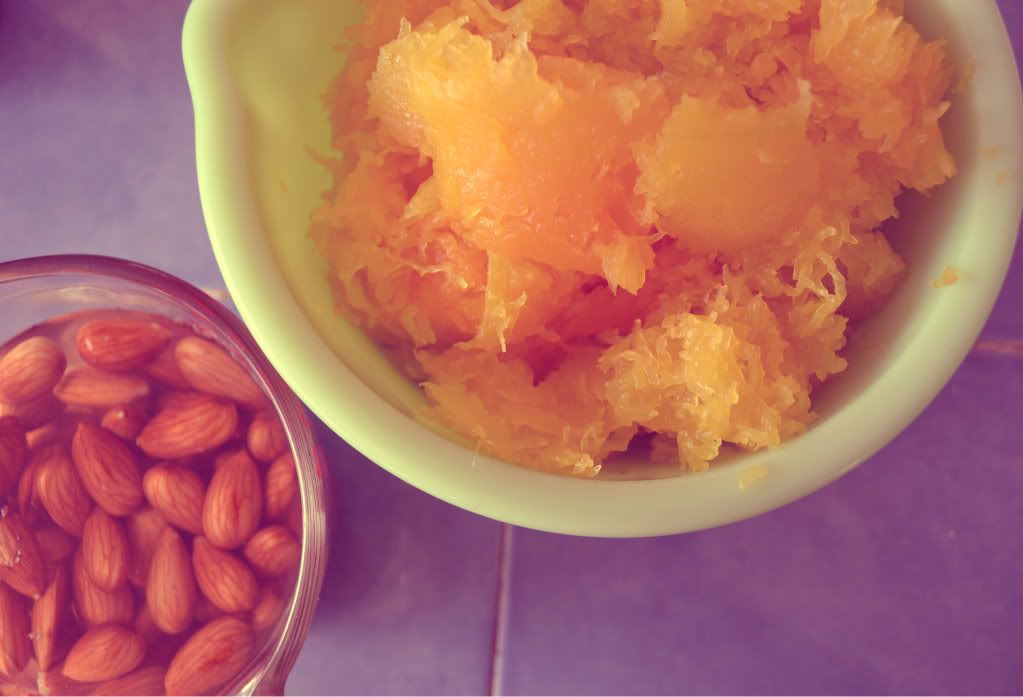 This is a new project I´m starting dedicated to my son. He is 12 going on 16. And he, as opposed to my 6 year old little girl was not born into this family´s constant search for a natural, toxic free (as much as possible) way of life. He was actually the
reason
why this all started. So, again, as opposed to little G (who asks "is this natural, please?" just as normally as she breathes), big G see´s this way of life (especially the dietary side of it) as an imposition, as a curse he has to put up with because he got
sick
. Yesterday it dawned on me. He´s angry. He can´t wait until he´s old enough to send us all to wherever "far enough" is, just so he can go on a Mc Donald´s binge and never look back. It doesn´t matter how many goodies I make at home, he´ll always idolize what he doesn´t have. My husband told him (and, yes, half way through his speach I was ready to kill him, but then I heard the other half and felt thankful), "I see you´re angry. You can´t wait to eat whatever you want, right? (big G nods) Well, don´t worry. You´re growing so fast! Pretty soon you´ll be old enough to make your own decisions and eat whatever you want (big G´s eyes grew wider and wider, and he smiled big as if he saw "freedom" right around the corner and was ready to make a run for it). In a few years you won´t have to listen to us and you´ll be able to decide on your own wheather you want to eat crap or real food." (big G´s face fell)
Este es un nuevo proyecto que estoy emprendiendo, dedicado a mi hijo. El tiene 12, a punto de cumplir 16. Y el, contrario a mi nena de 6 años, no nació en la constante busqeda de esta familia por una vida natural, libre de toxinas (tánto como sea posible). De hecho el fue la razón por la cual comenzó todo esto. Así, insisto, contrario a G chica (quien pregunta "¿Porfavor, esto es natural?" tan naturalmente como respirar), G grande ve esta forma de vida (especialmente la parte dietética de ella) como una imposición, como una maldición que tiene que soportar porque se enfermó. Ayer me cayó el 20. Está enojado. No puede esperar a ser lo suficientemente grande para mandarnos a todos por un tubo y poderse atascar de Mc Donald´s y nunca más volver atrás. No importa la cantidad de postres que yo haga en casa, siempre idealizará lo que no tiene. Mi esposo le dijo (y, si, a la mitad del sermón yo estaba lista para colgarlo, pero cuando escuché la otra mitad se lo agradecí), "Veo que estás enojado. ¿No puedes esperar a poder comer lo que se te pegue la gana, verdad? (G grande asiente) Pues no te preocupes. ¡Estás creciendo tan rápido! Pronto podrás tomar tus propias decisiones y comer lo que se te antoje (los ojos de G grande se abrieron como platos, como si hubiera visto la "libertad" del otro lado de la calle y estuviera listo para salir corriendo). Dentro de pocos años ya no nos tendrás que hacer caso y podrás decidir por tu propia cuenta si quieres comer porquerías o comida sana." (a G grande se la cayó la cara).
So I realize now, my days of being mama to my little boy are numbered. I saw that mama-hatin´-teenager stare me right in the face for a few minutes yesterday. He´s growing. I was a teenager too. I remember what that´s like. I´ve spoken with him so many times before. I haven´t just imposed natural eating on him. I´ve tried to share the real reason we should choose to live "differently". It´s like all I´ve ever said has gone in one ear and out the other. But, isn´t that how these things work sometimes? So I´ve decided it´s time to try a different approach. I´m going to teach my son, in other people´s words (cause mama´s words are not gonna do the job this time) why we think and live the way we do. I´m going to give him the facts he needs so he can make an informed decision, when the time comes. I won´t be able to avoid many, many things. I won´t be able to protect him anymore and it hurts. But I can either take this the horrrrible way, or take a happy pill and make the most of it. For me, it´s like preparing him for a big trip. I´m helping him pack and making sure he has was is
truly
important before he leaves. I don´t want his illness to be his motivation. I never did.
Así que ahora veo que mis días de ser mamita de un niño pequeño están numerados. El día de ayer, por unos minutos, vi a ese adolescente-odia-mamás mirarme a la cara. Está creciendo. Yo también fui adolescente. Recuerdo lo que eso era. He hablado con el tántas veces. No solo le he impuesto el comer natural. He intentado compartirle porqué escojemos vivir de una manera "diferente". Es como si todo lo que le he dicho le ha entrado por un oído y salido por el otro. Pero asi es como funciona a veces, ¿no? Así que he decidido que es momento de intentar un enfoque diferente. Le voy a enseñar a mi hijo, en palabras de otras personas (porque las palabras de mamá no va a ser suficiente esta vez) porque pensamos y vivimos de la forma que lo hacemos. Le voy a dar los datos que necesita para poder tomar una decisión informada, cuando su momento llegue. Hay muchas, muchas cosas que no podré evitar. Ya no lo podré proteger, y eso me duele. Pero puedo tomar esto de mala manera, o tomarme una pastillita de sonrisa y hacer lo mejor que puedo. Para mi, es como prepararlo para un gran viaje. Lo estoy ayudando a empacar y me aseguro de que tiene lo que realmente importa antes de partir. No quiero que su motivación sea la enfermedad. Nunca lo quise.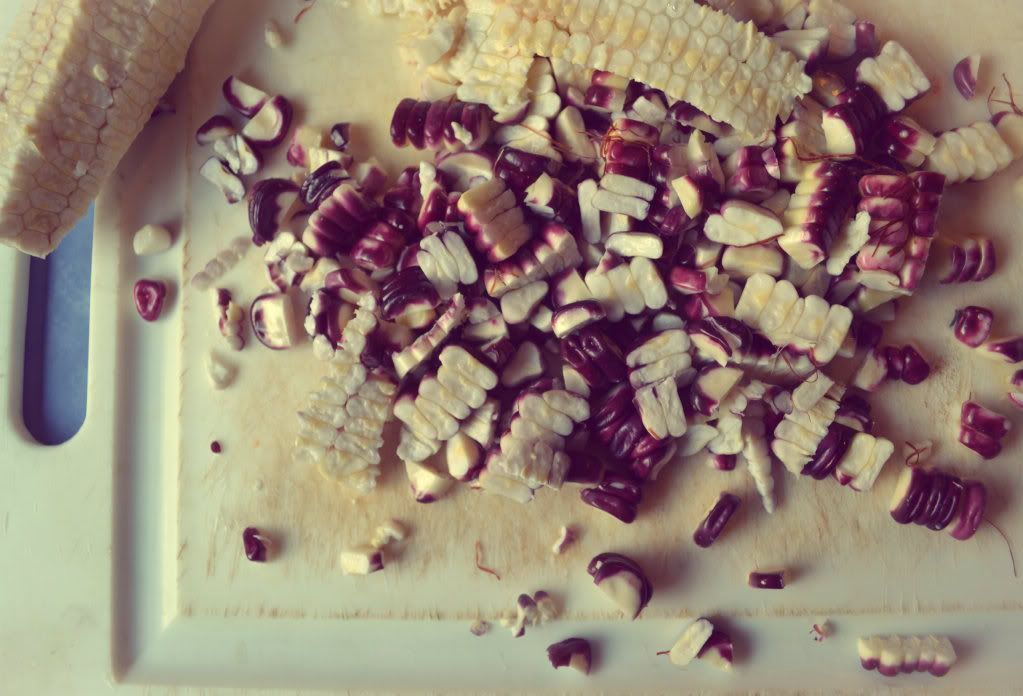 G has always been marvelous at surprising me with his out of the box thinking. I had a conversation with him this morning and told him what I thought and was planning to do in a way I knew he´d understand. In his own words. I told him that if he was so passionate about revoutionary ways of thinking and creating, than it was because he believed in swimming a bit against the current. Against what the system expects from us. Unaware obedience. So if he was so proud (because he is) of this way of thinking, he had to be consistent with it and uderstand that our way of eating and living is also a "mold breaking" way of life. It is deciding to eat what is good for us and not what fills those big ol´companies pockets of money at our expense. If they do not care, not for a second, what it is we put in our bodies, and what effect it will have on our health, minds and lives, why on earth should we "obey"? You want to "think otside the box"? Well start living like you do. Take your life into your own hands.
G siempre ha sido buenísimo para eso de sorprenderme con sus pensamientos"diferentes". Tuve una conversación con el esta mañana y le compartí lo que pensaba, y había decidido hacer, en palabras que supe el entendería. En su propio idioma. Le dije que si se sentía tan apasionado por formas revolucionarias de pensar y de crear, entonces era porque creía un poco en nadar contra corriente. En contra de lo que el sistema espera de nosotros. Obediencia inconsciente. Así que si estaba tan orgulloso (porque lo está) de esta manera de pensar, tenía que ser coherente con ello y entender que nuestra manera de comer y vivir también es una forma de vida que "rompe con el molde". Es decidir comer lo que es bueno para nosotros y no lo que le llena de dinero el bolsillo de enormes compañías a costa de nuestra salud. Si a ellos no les importa, ni en lo más mínimo, lo que metemos en nuestros cuerpos y los efectos que esto tendrá en nuestra salud, mentes y vidas, ¿porque razón deberíamos nosotros de "obedecer"? ¿Quieres pensar de una manera revolucionaria? Pues comienza a vivir como si así fuera. Toma tu vida en tus propias manos.
PD: Te amo Giaco
Big G and I agreed that I would post information (given by others) every week on different subjects that would help him understand the "why" behind our lifestyle. This is the first.
GMO´s
"Just because it looks good, smells good and tastes good doesn't mean that it's good for you. Every thing that you put into your body has an effect on your health, the way you look and the way you think. There are alot of foods that not only affect you when you eat them, but they continue to do damage to your body long after you have eaten them. Most of the foods we eat are processed with chemicals and preservatives that poison our bodies and our minds. Our bodies are replenishing and building themselves everyday and the food we eat provides the fuel for this to happen. If you put bad fuel into your car, it won't run well and eventually it breaks down. We do the same thing to our bodies everytime we eat something that our bodies consider poison. We overload our systems with toxins and then we pay the price with illnesses like cancer, heart disease and diabetes."
This is part of a
school project
written by Cyan, a boy not much older that G. I was really proud to see what he had done, and the simple, clear way in which he was able to share what GMO´s and Monsanto actually are. I think you should all stop by and check out what some of the newer generations of kids are (thankfully) starting to become aware of, and maybe (hopefully) even helping older, "wiser" people to open their eyes. Because that is where real change begins. By opening our eyes.
For more info on Monsantos and GMO´s:
Las Intenciones de Monsanto (specifically related to how Mexico is becoming Monsanto´s waste dump for genetically modified corn) in spanish
G grande yo yo acordamos que yo postearía información (proporcionada por otros) cada semana con distintos temas que le ayudarían a entender el "porqué" detrás de nuestra forma de vida. Este es el primero.
"Solo porque se ve bien, huele bien y sabe bien, no significa que sea bueno para ti. Todo lo que le pones o metes a tu cuerpo tiene un efecto en tu salud, la manera en la que te ves y en la manera en la que piensas. Hay muchos alimentos que no solo te afectan cuando los comes, sino que continúan haciendo daño mucho después de que los has ingerido. La mayor parte de las comidas que consumimos son procesados con químicos y conservadores que envenenan nuestro cuerpo y nuestra mente. Nuestro cuerpo se está regenerando y construyendo diariamente y los alimentos que consumimos le proveé del combustible para que esto suceda. Si le pones combustible malo a tu coche, deja de funcionar bien, y eventualmente, se descompone. Le hacemos lo mismo a nuestros cuerpos cada ves que lo alimentamos con algo que éste considera veneno. Sobrecargamos nuestro sistema con toxinas y después pagamos el precio con enfermedades como el cáncer, enfermedades del corazón y diabetes."
Esto es parte de un proyecto escolar escrito por Cyan, un niño no mucho mayor que G. Me sentí muy orgullosa al ver lo que había hecho, y la sencilla, clara manera en la que pudo compartir lo que en realidad son los OGM y Monsanto. Creo que deberían darse una vuelta a ver lo que alguna de las nuevas generaciones de chicos están comenzando (gracias a Dios) a darse cuenta de estas cosas, y quizá (ojalá) inclusive ayudando a adultos, aquellos mas "sabios" a abrir los ojos. Porque ahí es donde comienza el verdadero cambio. Abriendo los ojos.
Para más información sobre OGM y Monsantos:
sharing: