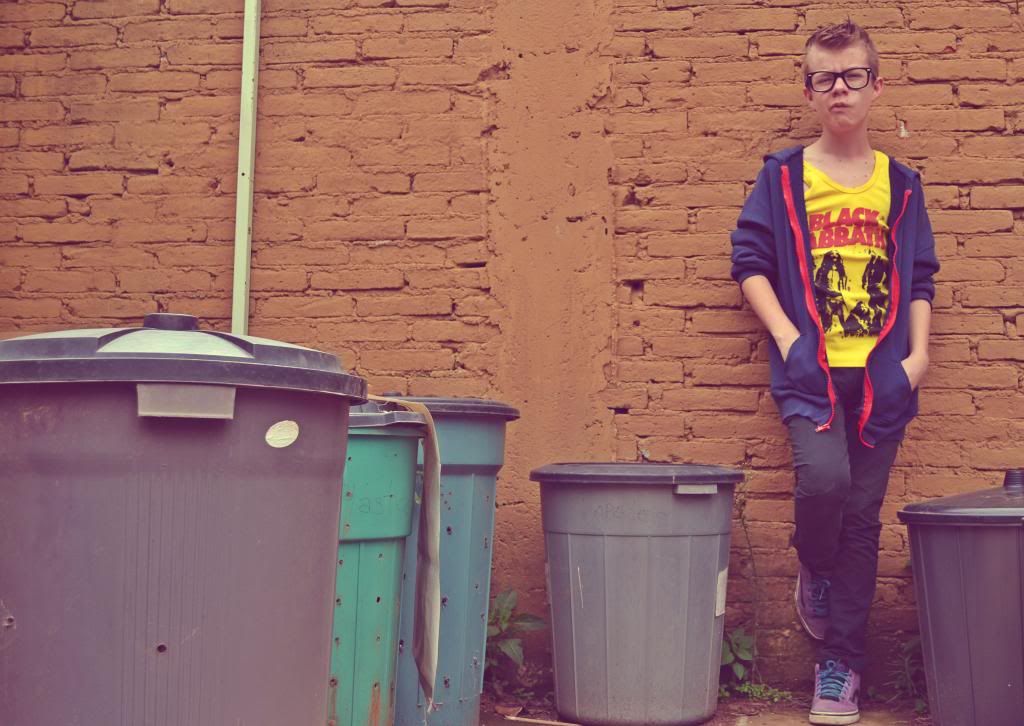 what i did, step by step:
lo que hice, paso a paso:
1. got my hands on a BIG old sweatshirt with a hoodie that had seen waay better days
1. conseguí una sudadera GRANDE con gorra al que ya se le había pasado sus días de gloria
2. cut off the banded bottom and set aside (cut as far up as you need to achieve the length you´re going for); i unstitched the zipper as well
2. corté la cintura "elástica" y aparté (corta tan arriba como necesites para lograr el largo que estás buscando para tu sudadera); también descosí el cierre
3. adjusted the pockets to fit the sweatshirt´s new size by folding the sides over, pinning and sewing
3. ajusté los bolsillos al nuevo tamaño de la sudadera doblándo las orillas, fijando con alfileres y cosiendo
4. turned sweatshirt inside out, placed a sweatshirt that still fits G on top and, following the edge (+ a couple of inches), i pinned.
4. volteé la sudadera, coloqué una sudadera que aún le queda a G encima y, siguiendo las orillas (+ unos cuantos centimetros), sujeté con alfileres.
5. sew following the pins. i used a normal sewing machine without an overlock option, and sew in a straight line. this worked perfectly well with this sort of fabric because it´s stretchy, but not too much. i just pulled slightly on the fabric as i sew.
5. cosí siguiendo los alfileres. usé una máquina de coser normal, sin la opción de overlock y cosí en línea recta. esto funcionó a la perfección con este tipo de tela ya que es elástica, pero no demasiado. jalé ligeramente mientras iba cosiendo.
6. i cut off excess fabric
6. corté el exceso de tela
7. pinned banded bottom to the bottom of the sweatshirt, fronts facing (as shown in pic 8), and sew along the edge in a straight line, again slightly pulling as i went
7. fijé la cintura con alfileres al borde inferior, frente con frente (tal como muestra la foto 8), y cosí en línea recta a pocos centímetros de la orilla, nuevamente, jalé la tela ligeramente mientras iba cosiendo
8. optional: you can sew over the edges of the fabric left over from the banded area that was attached to the body of the sweatshirt. this will give it a better hold and add a more finished look (even if you sew as crooked as i do!) pic 9
8. opcional: puedes coser por encima del exceso de tela que quedó al unir la cintura al cuerpo de la sudadera. esto le aportará resistencia y le dará un mejor acabado (¡aunque cosas tan chueco como yo!) foto 9
9. i sew on a new zipper in a contrasting color (shorter than the original one, of course)
9. cosí un cierre nuevo a la sudadera en un color contrastante (más corto que el cierre original, obviamente)
10. i ran out to the closest office-depot-thing-a-ma-jig i have in my area and printed out a fun polaroid illustration i found amoung big G´s favorite images on transfer paper, cut out and ironed it onto the back of the sweatshirt
10. salí corriendo al office-depot-como-se-llame más cercano a mi casa e imprimí sobre papel trasfer una divertida ilustración que encontré entre las imágenes preferidas de G, lo corté y planché a la parte de atrás de la sudadera
11. i then added extra stitches here and there in contrasting thread (around the image and hoodie for example)
11. finalmente añadí costuras decorativas en un color contrastante por aquí y por allá (por ejemplo, alrededor de la imagen, en el borde de la gorra...)
note: you might need to also adjust the length of the sleeves. i chose not to because it wasn´t as necessary for the look i was going for and the rate at which this boy is growing. if this isn´t your case, and you need shorter sleeves, then just cut off the banded cuffs and repeat steps 7 and 8 on sleeves.
nota: quizá necesites ajustar el largo de las mangas. yo escogí no hacerlo ya que no era necesario tomando en cuenta el look que buscaba, y la velocidad a la que está creciendo este niño. si este no es tu caso, y necesitas mangas más cortas, entonces simplemente corta los puños elásticos y repite los pasos 7 y 8 en las mangas.
¡¡¡C´est fini!!!