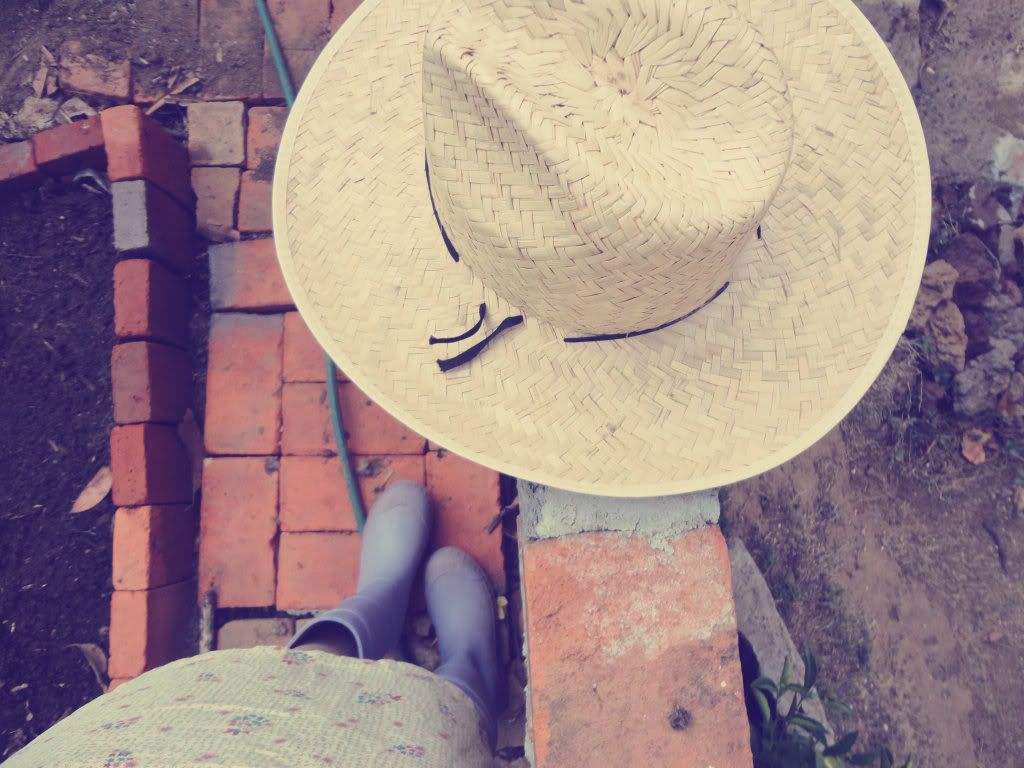 Things have been moving at a natural pace lately, we´ve gotten things done, and this makes me happy. We finally have the "second floor" of our garden planted with strawberry and blackberry plants, and corn and carrot seeds. While Mr. B got all that done I was preparing little flowerpots with a variety of lettuce, spinach, quinoa, tomatoes and chard. When they´re big and stong enough they will go into the ground as well.
We have ambitious plans for the "first floor" of the garden but I still have to figure a way of keeping the dogs out. Meanwhile, we created a sort of plateau on the hill that leads to the "second floor" of the garden. I planted loads of mint there and I plan on filling the rest with colorful, beautiful, edible flowers.
My lovely herb garden is growing beautifully in big flower pots. But for the first time in my life, when I look out my window and see pretty little birds flying around the garden, I see them as a threat rather than sweet creators of song, freedom with wings. Oh no. Not any more. And don´t even get me started on the squirrel subject! So, this time, I would really enjoy any form of advice. How am I supposed to turn my whole garden into an organic vegetable and herb garden with these creatures stalking my every seedling? Ideas?!?
PS: I found
this
interesting article on the subject of growing your own vegetable garden!
Las cosas se han estado moviendo a un paso natural, hemos logrado cosas, y esto me hace felíz. Por fin sembramos el "segundo piso" de nuestro jardín con semillas de maíz y zanahoria, y plantamos unas cuantas fresas y zarzamoras. Mientras esto lo hacía el Sr. B, yo preparaba macetitas con una variedad de lechugas, espinaca, quinoa, jitomates (tomates) y acelga. Cuando estén más grandecitos y lo suficientemente fuertes, ellas también irán a la tierra.
Tenemos planes ambiciosos para el "primer piso" del jardín, pero aún tengo que encontrar manera de mantener fuera a los perros. Mientras tanto, hemos creado una especie de meseta en la pequeña colina que lleva al "segundo piso". Ahí planté un montón de menta y planeo llenar lo demás con hermosas y coloridas flores comestibles.
Mi dulce jardín de plantas de olor florece de maravilla en grandes macetas. Pero, por primera vez en mi vida, cuando miro por mi ventana y veo lindos pajaritos volando por el jardín, contrario a ser testigo del vuelo
de los creadores de dulce canción, libertad con alas,
de veo una amenaza. Amenaza. ¡Y ni me den cuerda con el tema de las ardillas! Asi que, esta ves,
realmente
agradecería cualquier tipo de consejo. ¿Cómo se supone que debo convertir mi jardín entero en un huerto orgánico con estas criaturas al acecho de cada inocente almácigo? ¿¡¿ Ideas?!?