These little pants I haven´t been able to say goodbye to. They were my little G´s sweetest pair, she looked so sweet in them. But I could only keep them in a drawer for so long and I really wanted to put them to good use again, breathe some life into them (I simply love the fabric). So here goes a really quick and easy way to turn mini pants into a skirt.
Simplemente no he podido despedirme de estos pantaloncitos. Eran el par más dulce que tenía mi pequeña G, se veía tan linda en ellos. Pero no podía quedarse en un cajón por siempre y realmente le quería dar buen uso, darle nueva vida (simpelmente amo esta tela). Así que aquí va manera rápida y fácil de convertir mini pantaloncitos en una linda falda.
You will need /
Necesitarás:
those cute little pants you just can´t seem to let go of /

esos pantaloncitos de los que simplemente no te puedes despedir

an old T-shirt (matching or contrasting color) /

una playerita vieja (color que combine o contraste)

thread (matching or contrasting color) /

hilo (color que combine o contraste)

pins /

alfileres
Instructions /
Instrucciones:
Unstitch pants all along the inner leg hem and about half way up the crotch stitch, both back and front.

Descose los pantalones a todo lo largo del interior de la pierna y hasta aproximadamente la mitad del largo del tiro
Fold over and pin down one side of the crotch. As you pin, make sure you get the opening you desire below. If you want your skirt to be fuller then leave a larger opening, and the other way around if you desire a more snug fit. Do this on front and back of "pants".

Dobla y cose un lado del tiro. Mientras fijas los alfileres asegúrate que vas adquiriendo el tamaño de la apertura que deseas en la parte inferior. Si quieres una falda con mas vuelo, deja una apertura más grande y una apertura más pequeña para una falda más entallada. Este paso aplica para tánto la parte frontal como la trasera.
Now take your T shirt and cut, following the basic shape of your opening, but making it larger. Better to have left over fabric that you can trim afterward than to not have enough. Before cutting make sure you leave the natural bottom hem of the T -shirt where the hem of the skirt will be. Repeat on both sides.

Ahora toma la playerita y corta, siguiendo la forma básica, pero haciéndolo un poco más grande. Es mejor tener tela de sobra que puedas recortar una ves que hayas terminado, a no tener suficiente. Antes de cortar asegúrate de dejar que la bastilla inferior de la playera quede donde va a coincidir con lo que será la bastilla de la falda.
Pin your T-shirt fabric in place allowing the normal fold of the pant´s previous hem to guide you. This way you won´t have to zig zag the edges and the over-all finished look is cleaner. Check and re-check to be sure you are comfortable with the position and that the bottom hems add up. Carefully sew in place as close to edge as you can, all the way to the hem of the waistline. Repeat on both sides.

Fija tu tela de playera al pantalon con los alfileres permitiendo que la previa union del pantalon te vaya guiando. De esta manera no tendras que terminar los bordes con zig-zag y el acabado en general se verá mejor terminado.

Dale una doble revisión a la posición de la tela de playera para asegurarte que queda bien y que las bastillas coincidan.. Cose con mucho cuidado lo más cerca a la orilla como puedas hasta llegar a la costura de la cintura. Repite de ambos lados.
Now turn your skirt over and trim the edges of the T-shirt fabric that were left over and the excess triangular looking piece of fabric left over from the crotch. You don´t need to zig-zag the t-shirt fabric, but I strongly recommend you zig-zag the edges of the "triangle" you just trimmed. Finally, snip the 2 bottom corners where the t-shirt fabric meets the pant fabric. And you´re done!

Ahora voltea tu falda y recorta las orillas de la tela de playera que sobró así como el excedente en forma triangular que sobró de la tela del tiro. No necesitarás terminar las orillas de la tela de playera con zig-zag, pero recomiendo fuerte ¡mente que si lo hagas con los bordes de lo que era antes el tiro. Finalmente corta una diagonal en las dos esquinas inferiores donde la tela de playera se encuentra con la tela del pantalón. ¡Listo!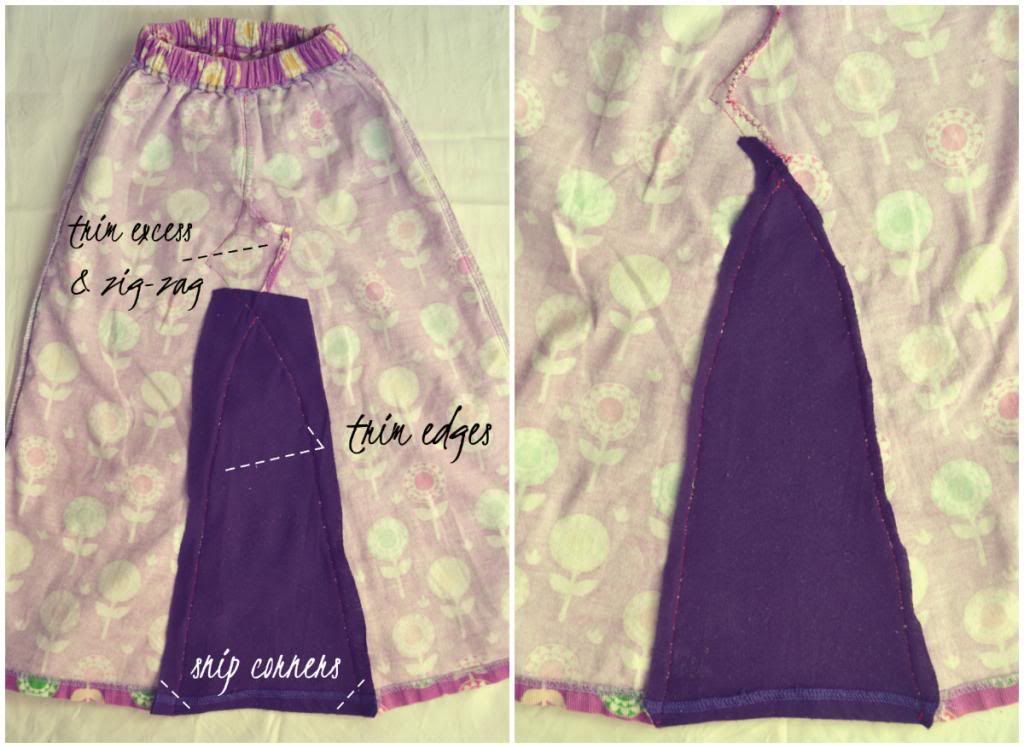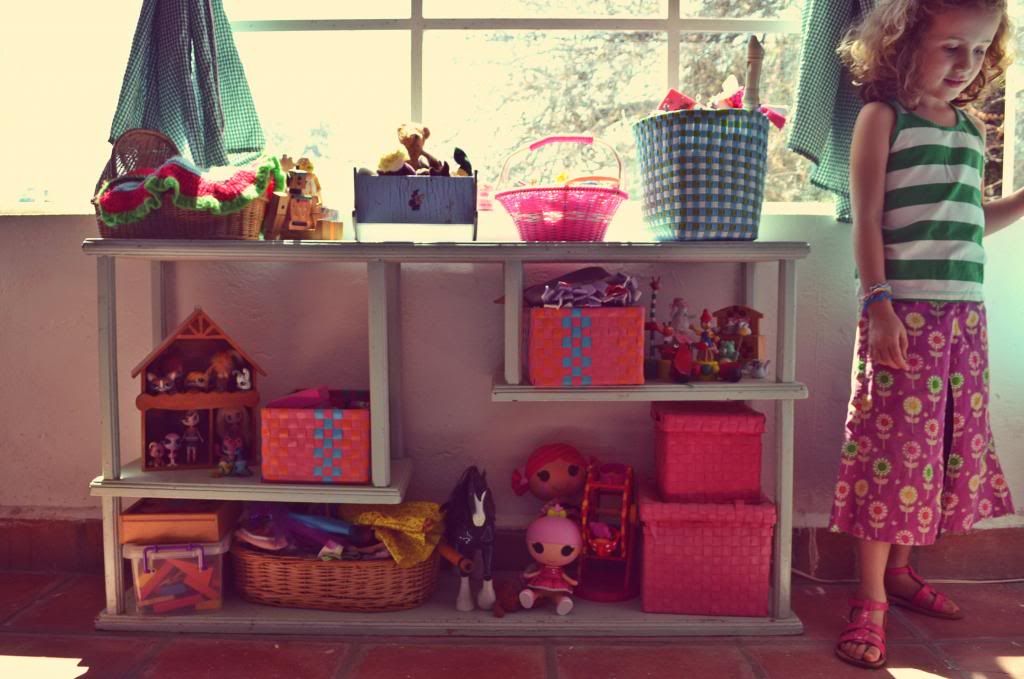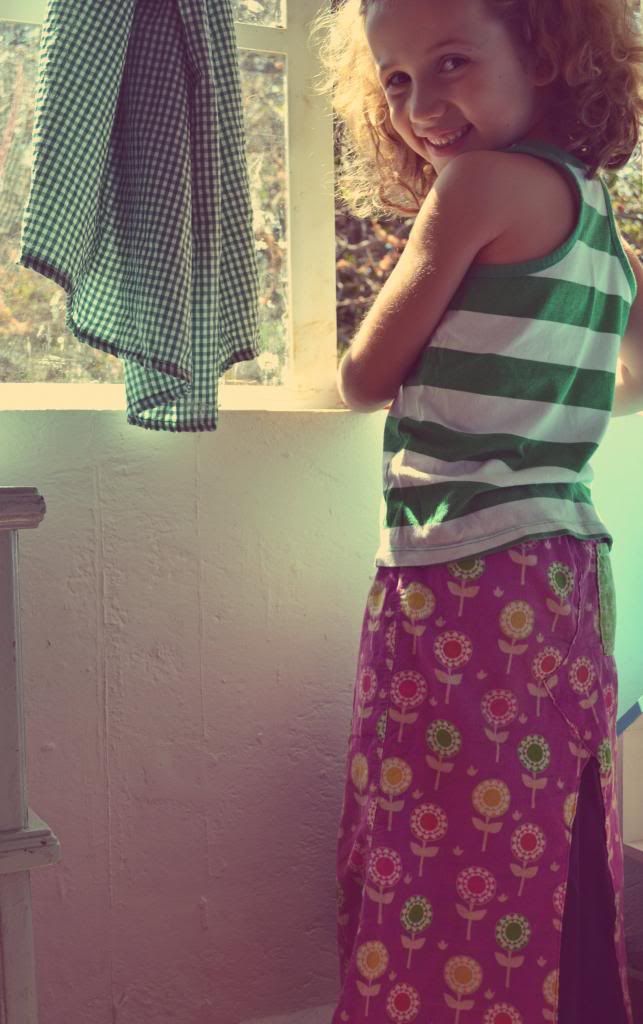 this sweet tute featured on: