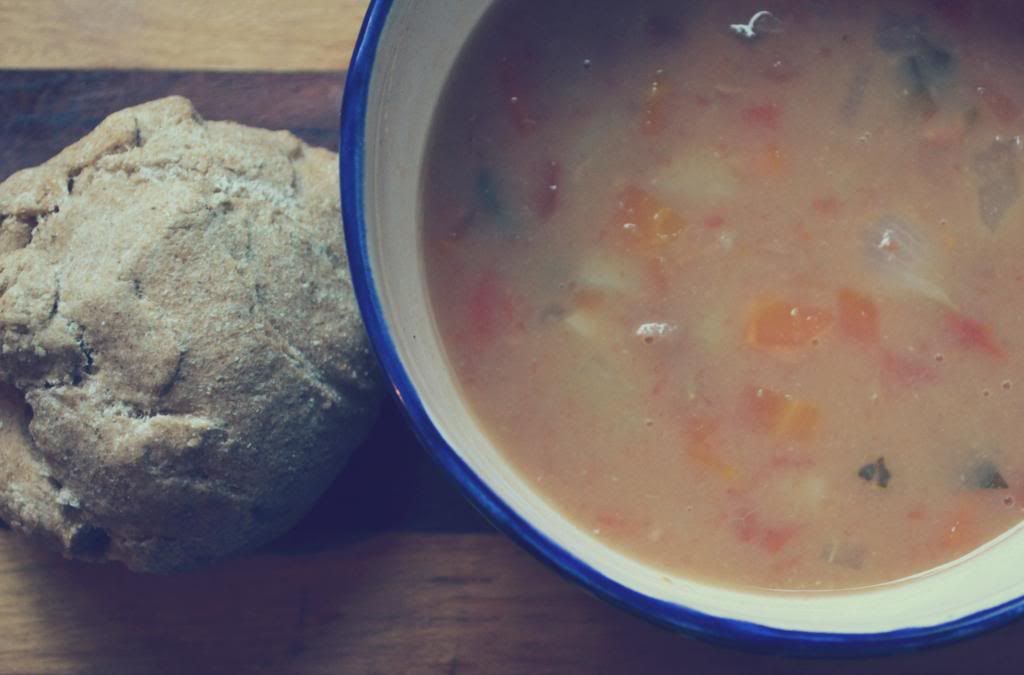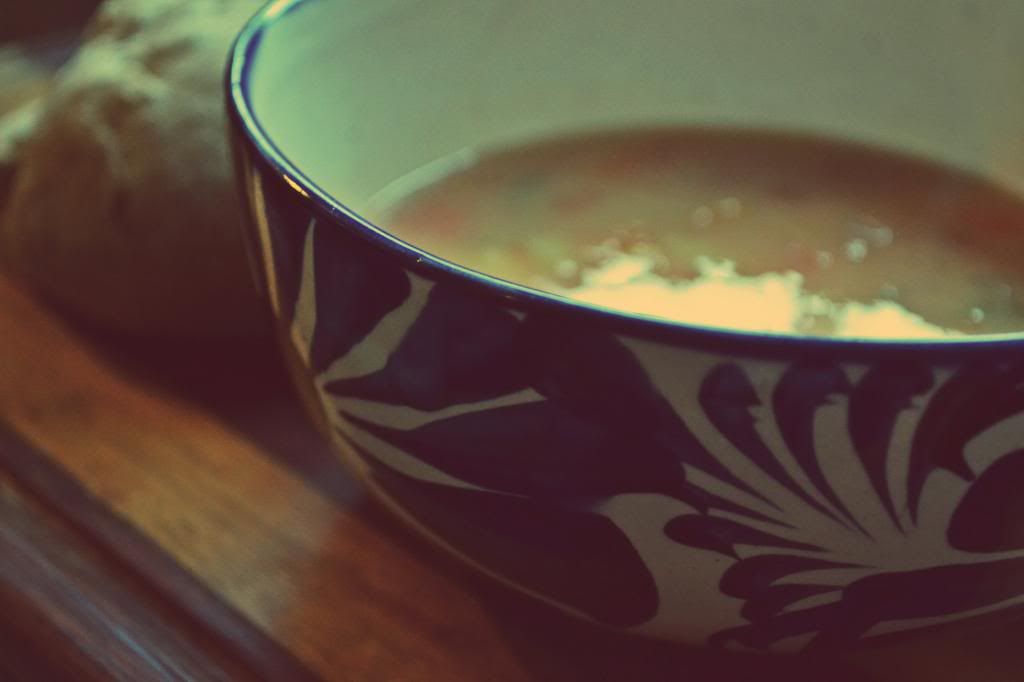 I love to eat. I love comfort food. I also love simple, homemade, organic, fresh, yummy and, if possible, easy. I find that making a batch of organic beans and freezing them has made my life easier in many ways. I know right of the stove is waaay better, but sometimes my life isn´t precisely one that seems to have plopped (yes, just like poo does) out of a beautiful cookbook with gorgeous photography and a perfectly well groomed cook on the back cover. So, I have my reserve of organic, homemade freezer food for those not so stylish and under control days of my mama bear life. Yesterday (being one of those poo-poo days) I had to juggle many things, but really felt like warm comfort food and bread fresh out of the oven. So I went for diving into organic bread making and decided that´s all I could dedicate any real time to (if I didn´t want to turn into the wicked witch of the west south by the time my kids were ready for lunch). I would just have to go for my version of "fast food" for the rest of our menu. I spruced up a yummy vegan minestrone with the help of my frozen beans. Yum. Yum. Yum. And EASY.
Amo comer. Amo comida que consuela. También amo lo simple, lo hecho en casa, lo orgánico, fresco, delicioso y, de ser posible, lo fácil. Encuentro que hacer una gran olla de frijoles orgánicos y después congelarlos ha hecho mi vida más sencilla en una variedad de ocasiones. Sé que comer lo recién cocinado es muuucho mejor, pero a veces mi vida no es precisamente una que parece haberse escapado de un hermoso libro de cocina lleno de fotografía asombrosa y una cocinera perfectamente bien aseada y peinada en la contraportada. Así que tengo mis reservas de comida orgánica hecha en casa congelada, para aquellos días en mi vida de mamá oso que caen en lo menos glamorosos y lo más descontrolado. Ayer (siendo uno de esos días más "guacalita") tuve que malabarear toda una gama de oficios, pero realmente tenía ganas de una comida caliente y pan recién horneado para consolar mi corazón. Así que poté por entregarme a la tarea de hornear pan orgánico y decidí que eso era todo lo que ba a tener tiempo de lograr (si no quería verme convertida en la malvada bruja del oeste sur para la hora en que mis hijos llegaran con panzas llenas de hambre). Simplemente tendría que optar por mi versión de "comida rápida" para lo que restara del menú de la comida y así fue como hice este delicioso y sencillo minestrone vegetariano con la ayuda de mis frijolitos congelados. Deli. Deli. Deli-cioso. Y SENCILLO.
You´ll need:
carrots, potatos, tomatos and celery all chopped into small squares
onion (just a few slices)
1-2 cloves of garlic
beans (previously cooked)
fresh basil (chopped)
salt
Necesitarás:
zanahorias, papas, tomates y apio todo cortado en pequeños cuadritos

cebolla (solo unas cuantas rebanadas)

1-2 dientes de ajo

frijoles (previamente cocinados)

albhaca fresca (en pedazos)

sal
All you have to remember is what my dear italiana mamma says: "A good minestrone: if you can poke your spoon into it, and it stays standing, then you´re good to go." (I can never get it to be that thick, but it sure comes out yummy!). So keeping these words of wisdom in mind you want to boil water, but not too much. Take the amount of veggies and beans that are going into your minestrone into consideration. If you need more water you can always add a bit more. The other way around would be a bit tricky.
Add all your veggies to the water as well as the beans, onion and garlic cloves. Add salt (just a bit at a time, tasting as you go) and let boil for a while
without
covering your pot so that the water reduces and the flavors concentrate. Once your minestrone starts to acquire a creamy texture add the fresh basil and let cook for a while longer. Just let your taste buds and my mamma´s wisdom guide you. Serve hot with bread on the side and let your heart sigh.
Todo lo que tienes que recordar es lo que mi dulce mamma italiana me dice: "Un buen minestrone: si metes tu cuchara en el centro y permanece parada, entonces te salió bien." (nunca logro que me salga tan espeso, ¡pero si me sale delicioso!). Así que menten estas palabras de sabiduría en mente y pon a hervir agua, no pongas demasiada. Toma en cuenta la cantidad de verduras y frijoles que incoroporarás a tu minestrone. Si necesitas más agua, simepre le puedes añadir. ¿Quitárselo? Eso ya es un poco mas complicado.
Añade todas tus verduras al agua, así como los frijoles, la cebolla y los dientes de ajo. Añade la sal (solo un poco a la ves, dándole probaditas de ves en cuando) y deja hervir por un rato sin tapar para que así reduzca el agua y los sabores se concentren. Una ves que tu minestronecomienza a dquirir una consistencia algo espesa, añade la albhaca fresca y deja cocinar un tiempo más. Solo dejate guiar por tus papilas gustativas y la sabiduría de mi mamma. Sirve caliente con un buen pedazo de pan a un lado y deja que suspire tu corazón.
Note: I, in no way, am a cook. What I do is respect my deep passion for experimenting and constantly searching for yummy and healthy. I have loads of fun in the process and am in love with sharing. So, with this in mind, you can all give it a go if you so desire. A´mangiare!
Nota: No soy, ni seré, cocinera. De ninguna manera. lo que hago es respetar mi profunda pasión por la experimentación y mi constante búsqueda por lo rico y sano. Me divierto un mundo en el proceso y amo el poder compartir. así que, con eso en mente, pueden hecharse el clavado conmigo si así lo desean. A´mangiare!