i am happy to announce that i have been invited to be a
core contributor
, writing for
Voices from the Ville
, Kidville´s new blog. i´ll be adding a bit of my green, simple, handmade outlook on life and am silly happy to share this first post inspired by spring with all of you!
estoy felíz de anunciar que he sido invitada a contribuír regularmente, escribiéndo para el nuevo blog de Kidville: Voices from the Ville. estaré añadiendo un poco de mi verde, simple y hecho a mano punto de vista ¡y estoy contenta de compartir este primer post, inspirada por la primavera, con todos ustedes!
Spring is here and so is Mr. Sun. There is no better way to celebrate than with sweet little somethings to chew on. I like to involve my children in my acrobatics in the kitchen, especially when this leads me out into the garden, as it does when sun-drying fruits. My favorite fruits to sun-dry are apples and strawberries, and although getting this sweet and happy snack done requires some waiting, it is extremely easy. All you need is dry, hot weather, a drying rack and patience. Since I use only organic fruit I enjoy having my little missy either help me pick them from our garden, or accompany me to the farmers market and let her choose them herself. This way she feels like she´s truly a part of making such sweetness for the family.
Ha llegado la primavera y con ella el Sr. Sol. No hay mejor manera de celebrar que con dulces alguitos para masticar. Me gusta involucrar a mis hijos en mis acrobacias en la cocina, especialemente cuando éstas me llevan al jardín, como sucede al deshidratar frutas al sol. Mis frutas favoritas para deshidratar son manzanas y fresas, y aunque llevar acabo este dulce refrigerio requiere de algo de espera, es extremadamente fácil de hacer. Lo único que necesitas es un clima seco y caluroso, una rejilla y paciencia. Ya que solo uso fruta orgánica, me gusta dejar que mi pequeña señorita me ayude a recolectarlos del jardín, o que los escoja ella misma en el mercado orgánico. De esta manera siente que realmente es parte de crear tánta dulzura para su familia.
the easy-peasy-patience-taking how to:
wash your apples and strawberries
peel and core your apples (great tute on how to core apples here) then cut into slices, as thin as possible (don´t worry if your slice doesn´t come out whole), set aside
have the kids chop the strawberries (strawberries that are going to be sun dried are perfect for letting kids cut since they shouldn´t be thinly sliced - they get really sticky, and if they are too thin they stick to the drying rack)
lay your fruit out on your rack without overlapping, have the kids help (it´s sort of like putting a puzzle together)
set out to dry in the sun, this process could take up to a few days depending on the weather (do not leave out overnight)
make sure you turn your fruit over every now and then, and move the rack around so that it is directly under the sun for as long as possible
once you feel there is no humidity left in your fruit, store in a bottle at room temperature (you may find that not all your fruit finishes the drying phase simultaneously - some pieces may require being left out a bit longer - remember to be patient)
you can serve this yummy healthy snack alone, in oatmeal, or on top of cereal. Enjoy!
las instrucciones facilitas-pero-de-paciencia:
lava las manzanas y fresas

pela las manzanas y quítales el centro (maravilloso tutorial sobre cómo hacerlo aquí), después córtalo en rodajas, lo más delgado posible (no te preocupes si no salen enteras), dejar a un lado.

permite que los niñ@s corten las fresas (fresas que van a ser deshidratadas al sol son perfectas para que corten los niñ@s ya que no deben ser cortadas en piezas delgadas o chicas - se vuelven muy pegajosas y si están demasiado delgadas se pegan a la rejilla)

coloca tu fruta en la rejilla, sin sobreponer, que te ayuden los niñ@s (es como armar un rompecabezas)

coloca al sol, este proceso (el de la deshidratación) podría llevar hasta algunos días, dependiendo del clima (no lo dejes afuera por las noches)

asegúrate de voltear tu fruta de ves en cuando, y mueve la rejilla para que esté directamente bajo el sol la mayor cantidad de tiempo posible

una ves que sientas que ya no hay humedad en tu fruta, guárdala en una botella a temperatura ambiente (encontarás que no toda la fruta termina el proceso de deshidratación simultáneamente - algunos pedazos pueden requerir más tiempo al sol - recuerda ser paciente)

puedes disfrutar de esta delicia sola, en avena o encima del cereal. ¡A disfrutar!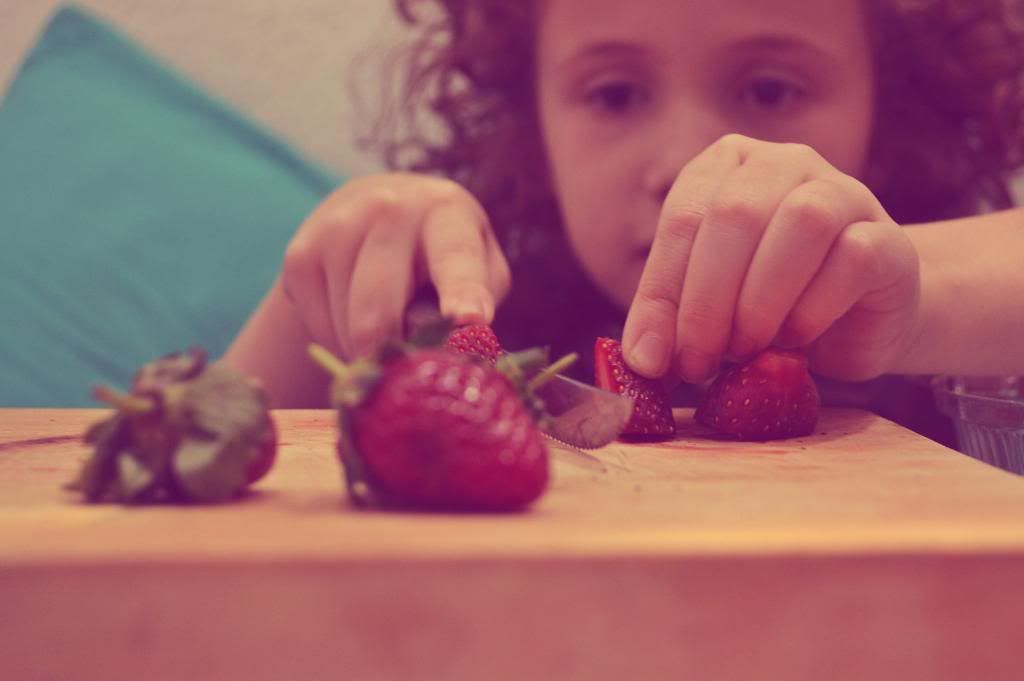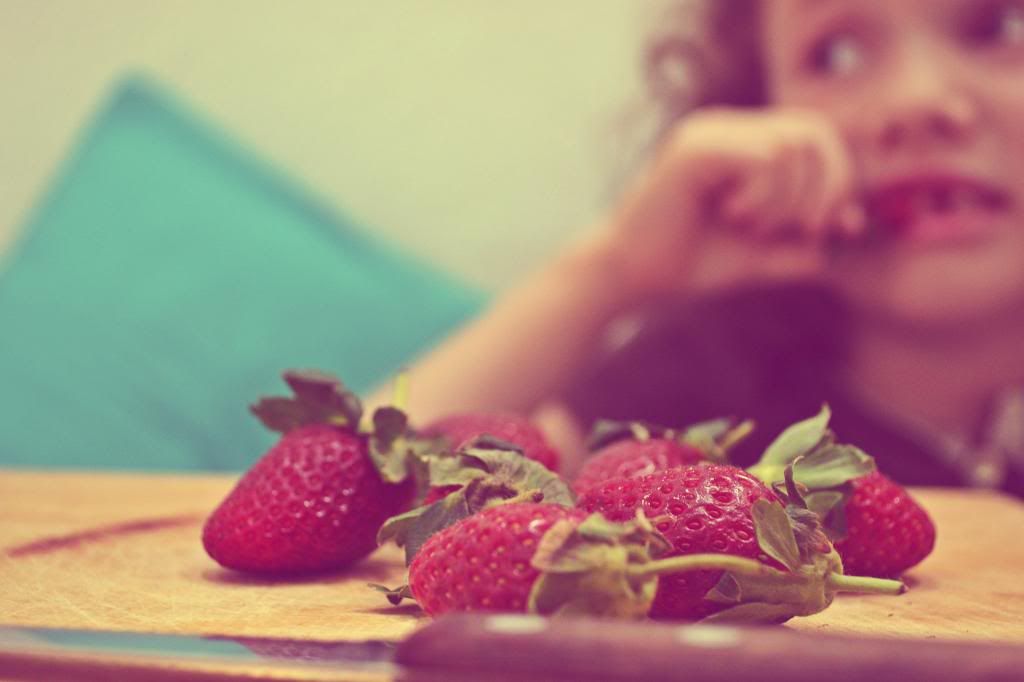 About drying racks:
At home we like to use wooden racks or my favorite bamboo tray. What´s important is that you use something sanitary and safe. You can find helpful information about food drying and drying racks
here
.
Sobre las rejillas de deshidratación:
En casa nos gusta usar rejillas de madera o mi bandeja de bambú favorita. Lo que es importante es que utilices algo seguro y sanitario. No se deben utilizar rejillas de alambre común porque corre peligro de oxidarse. Puedes encontrar información útil sobre la deshidratación del alimento y las rejillas aquí (en inglés).