Sometimes I feel that maybe I´m turning into one of those frieky mamas that feed their kids grass and bore the heck out of them in the process. But, guess what, my kiddos have grown so used to this lifestyle that they enjoy it! Yes people, I said ENJOY! My little G has even got used to asking "...and is this natural?" before starting to eat. So I decided that today I would share their favorite breakfast (and lunch, and dinner... if it were up to G) as well as mine considering how nutritious and EASY it is. E-A-S-Y and fast.
A veces siento que quizá me esté convirtiendo en una de esas psicóticas mamás que alimentan a sus hijos con puro pasto y los matan de aburrimiento en el proceso. Pero adivinen qué, los míos se han acostumbrado tánto a esta forma de vida que ¡lo disfrutan! ¡Si gente, dije lo DISFRUTAN! Mi pequeña G incluso tiene la extraña contumbre de preguntar "... ¿y esto es natural?" antes de comenzar a comer. Así que decidí que hoy compartiría su desayuno favorito (y comida, y cena... si de G dependiera) y el mío por sus características nutritivas Y prácticas. Más fácil no podría ser.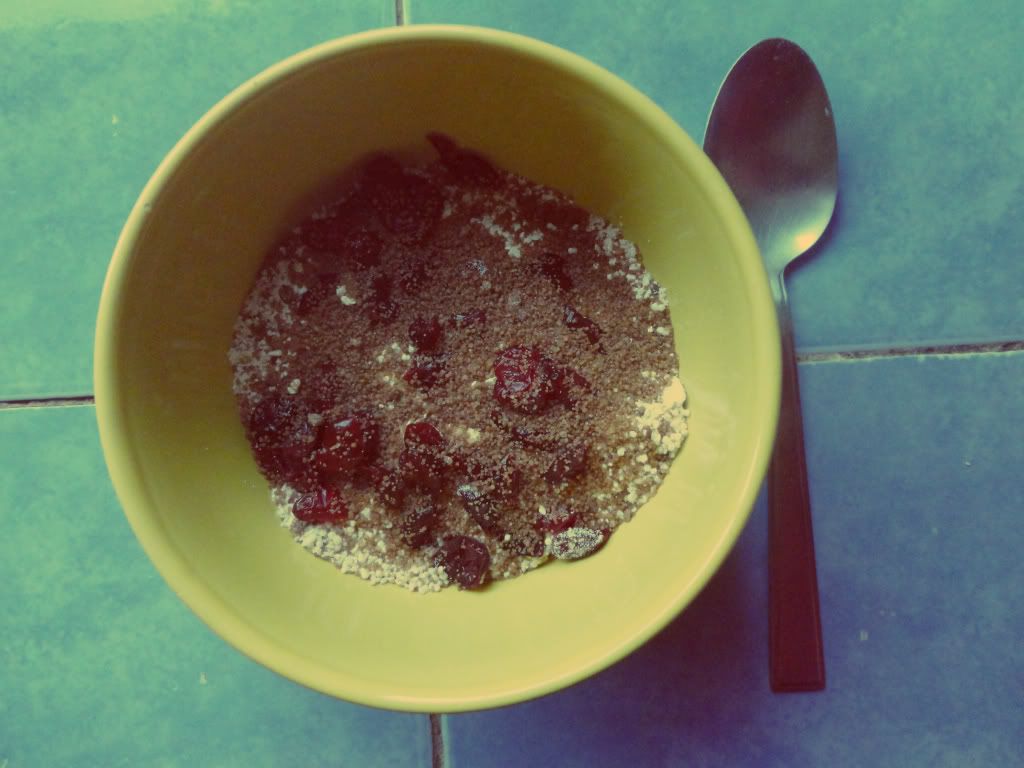 I have glass jars. Many. Glass jars with organic rice,
amaranth cereal
, organic beans, flour, flax seed, tapioca, oatmeal, nuts, cranberries, amoung other strange and yummy treasures. I put oatmeal, nuts, and any other ingredient G may not be convinced of eating yet, in the blender and blend away. I always try and keep an extra jar with this "flour-y" type of oatmeal handy, just because it´s faster that way.
But
: If you plan on storing your oatmeal (like
muá
) than blend only the oatmeal and blend or spread other ingredients on top
right before
eating.
Tengo tarros de vidrio. Muchos. Tarros con arróz orgánico, amaranto, frijól orgánico, harina integral, semillas de linaza, tapioca, avena, nueces, arándano, entre otros tesoros sabrosos. Pongo avena, nueces y cualquier otro ingrediente que G aún no esté convencida de ingerir, en la licuadora y ¡a licuar! Siempre procuro tener un tarro de vidrio con un poco de esta avena con consistencia tipo harina, solo porque es más rápido preparar el desayuno asi.
Pero
: si tienes planeado guardar tu mezcla de avena (como
muá
) entonces licúa solo la avena para guardar y licúa o esparce por encima los otros ingredientes que desées usar
justo antes
de comer.
Stuff I mix with kiddo´s oatmeal breakfast:
cranberries / raisins
amaranth cereal
nuts
flax seed
and then I sweeten it all with either brown sugar or a homemade syrup made from
piloncillo
(brown sugar)
Sorpresas que mezclo con el desayuno de avena:
arándanos / pasas
cereal de amaranto
nueces
semilla de linaza
y después lo endulzo todo con un poco de azúcar mascabado o miel de piloncillo hecho en casa
Pour some milk on top (we drink rice milk) stir and enjoy!
Mezcla con un poco de leche (nosotros tomamos leche de arróz) y ¡a disfrutar!