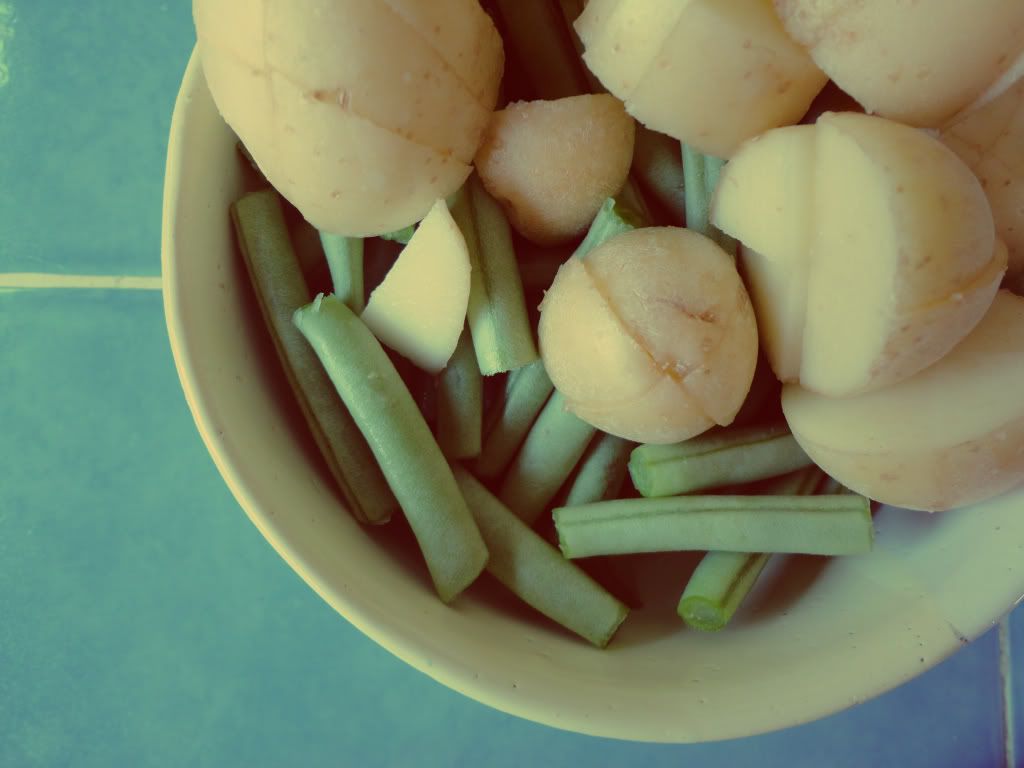 I´ve been SO happy lately. I found the perfect place to buy local, organic and love-ly! I am barely setting foot in a super market anymore. I just go to pick up a few things I can´t find anywhere else. I have achieved a great deal as far as walking away from chemicals goes (I´ll be posting about this soon). Everyday, when I make our meals, I like to step back and admire the fact that we are eating like kings.... organic loving kings... and spending less than we used to! Yesterday I made organic farro, an organic veggie and baby corn salad and homemade bread for la familia and there were no "buts", "ifs" or leftovers!
He estado TAN CONTENTA últimamente. ¡Encontré el lugar perfecto para comprar orgánico, local y precioso! Practicamente ya no pongo pie en el supermercado. Solo voy a comprar algunas cosas que no encuentro en otro lugar. He logrado bastante en el área de alejarme de los químicos (estraré posteando sobre esto pronto). Todos los días, al cocinar, me gusta darme un momento para admirar el hecho de que estamos comiendo como reyes... reyes amantes de lo orgánico... ¡y gastando menos que antes! Ayer preparé farro (trigo) orgánico, una ensalada orgánica de verduras con elotito tierno y pan casero para la familia y no hubo un solo "pero", "y si" ni comida de sobra!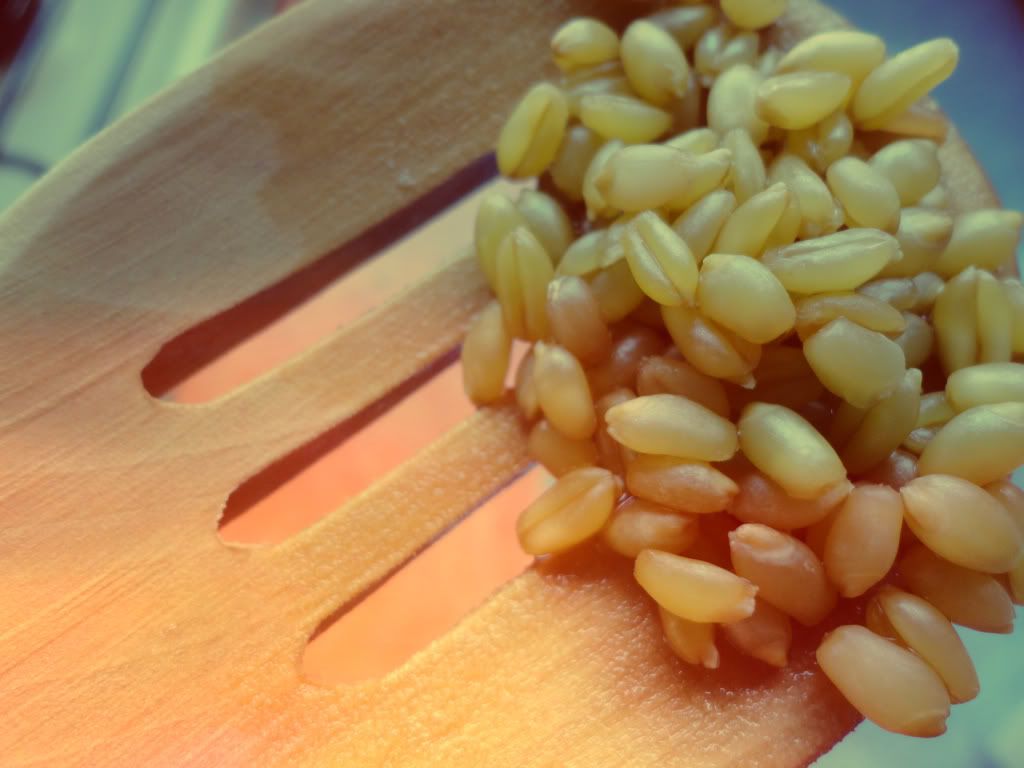 I´m even using organic salt, and instead of listening to weird music while walking through iles and iles of boxes with doubious ingredients printed in small letters, I walk through a beautiful field. I look down into baskets filled with wonderful treasures organically grown with love. And get home with my feet filed with dust and with my "mandado" bags filled with surprises. Couldn´t get any better.
Incluso estoy usando sal orgánica, y en ves de scuchar música extraña por un altavoz, mientras camino entre pasillos y pasillos llenos de cajas con ingredientes dudosos impresos en letras pequeñas, camino através de un campo hermoso. Busco entre canastas llenas de tesoros orgánicos sembrados con amor. Y llego a casa con los pies empanizados en tierrita y mis "bolsas del mandado" rebosando en sorpresas. No podría ser mejor que esto.
So how about some easy recipies?
Así que ¿que tal unas recetas sencillas?
Veggie Baby Corn Salad
Ensalada de Verduras con Elotitos Tiernos
You´ll need:
Necesitarás:
♥
potato /
papas
♥
green beans /
ejotitos
♥
baby corn /
elotito tierno
♥
dill /
hoja de eneldo
♥
olive oil /
aceite de olivo
♥
balsamic vinager /
vinagre balsámico
♥
salt /
sal
Chop the potatos and green beans, steam and let cool. Chop the baby corn into edible pieces. Once your veggies have cooled off, mix with the baby corn, adding the balsamic vinager, olive oil, dill and salt (start off with small amounts and taste, adding more if needed). Cést fini.
Corta las papas y ejotitos, cocina al vapo y deja enfriar. Corta el elotito tieno en pedazos comestibles. una vez que tus verduritas estén a temperatura ambiente, mezcla con los elotitos, añadiendo el vinagre balsámico, el aceite de olivo, la hoja de eneldo y la sal (comienza con pequeñas cantidades y ve probando, añadiéndo más se lo sientes necesario). Cést fini.
Farro Recipie
Receta de Farro
You´ll need:
Necesitarás:
♥
farro /
trigo
♥
onion /
cebolla
♥
tomato /
jitomate (tomate)
♥
salt /
sal
♥
olive oil /
aceite de olivo
Let the farro soak in water for at least 24 hours. I let it soak for 2 days, draining and changing the water once a day. This makes it extra soft. Drain and rinse farro, then set aside. Cut onion into small pieces. Cut tomato. Set aside. Heat olive oil in a pan and fry onion until soft, mix in farro and fry together for a few minutes, mixing often. Drop in the tomato and mix well, let this cook for a few minutes more. Mix well, set on very low heat and cover the pan. Let cook for about 5-7 more minutes (or until you´ve achieved the consistancy and flavor you desire) and you´re ready for a deliciously healthy meal.
Deja el farro (trigo) remojar en agua por un mínimo de 24 horas. Yo lo dejo remojar por 2 días, drenando y cambiándole el agua una ves al día. Esto lo hace extra suave. Cuela y enjuaga el trigo y deja a un lado. Corta la cebolla en pedacitos pequeños. Corta el jitomate (tomate). Deja a un lado. Calienta el aceite de olivo en un sartén y fríe la cebolla hasta que tenga una apariencia transparente, integra el trigo y fríe juntos por unos minutos revolviendo constantemente. Integra el jitomate (tomate) y mezcla bien. Deja que esto cocine por unos minutos más. Mezcla bien, pon a fuego muy bajo y tapa el sartén. Deja cocinar por unos 5-7 minutos más (o hasta conseguir el sabor y consistencia deseada) y estas list@ para una comida sana y deliciosa.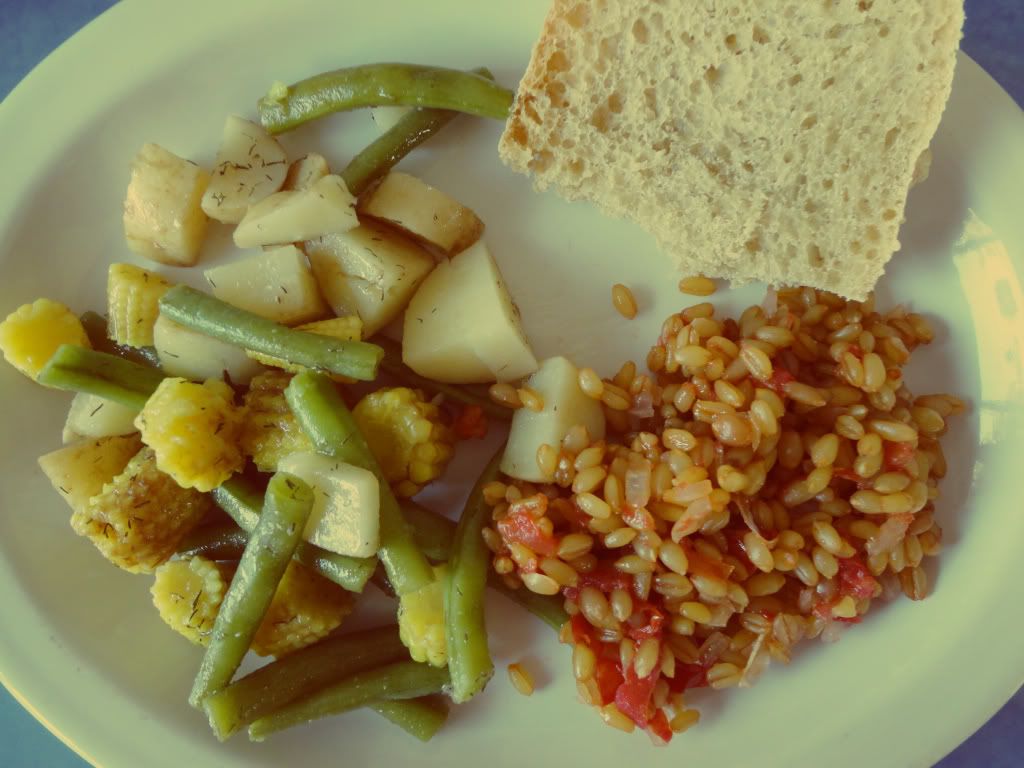 Bon Appétit!
Sharing:
embrace the camera